Maxine Vee is an artist and designer from Toronto, Canada. She runs her own online store and enjoys drawing whimsical illustrations, environments, and characters inspired by the likes of Disney.
Today she's here to talk to you about how she grew her brand on social media and translated that success into a thriving business.
---
Hey Maxine! Why don't we start by talking about your journey so far? We're all curious about your work, the influences behind it, and any past experiences that helped you become the person you are today.
Hello! Thank you so much for having me! Growing up, I watched a lot of Disney movies and always felt drawn to the magical scenes, colours, and storytelling. Disney inspired many of my works—I even made a series of illustrations based on it!
I often drew, painted, sculpted, and always took a keen interest in anything art-related. There was even a time when I focused primarily on photography and would document all my progress. Although I don't do photography as much anymore, it has become a huge influence on my work. Some of the techniques I used to shoot and edit my photographs have carried over to how I create my paintings.
Before the pandemic, I would try my best to travel, whether discovering a new place locally or going to another country. I love being able to see different sights and learn more about each location. I always end up feeling inspired after my trip! Nowadays, because of restricted travelling, I do my best to watch shows and movies, read books, and follow different creators to keep myself inspired.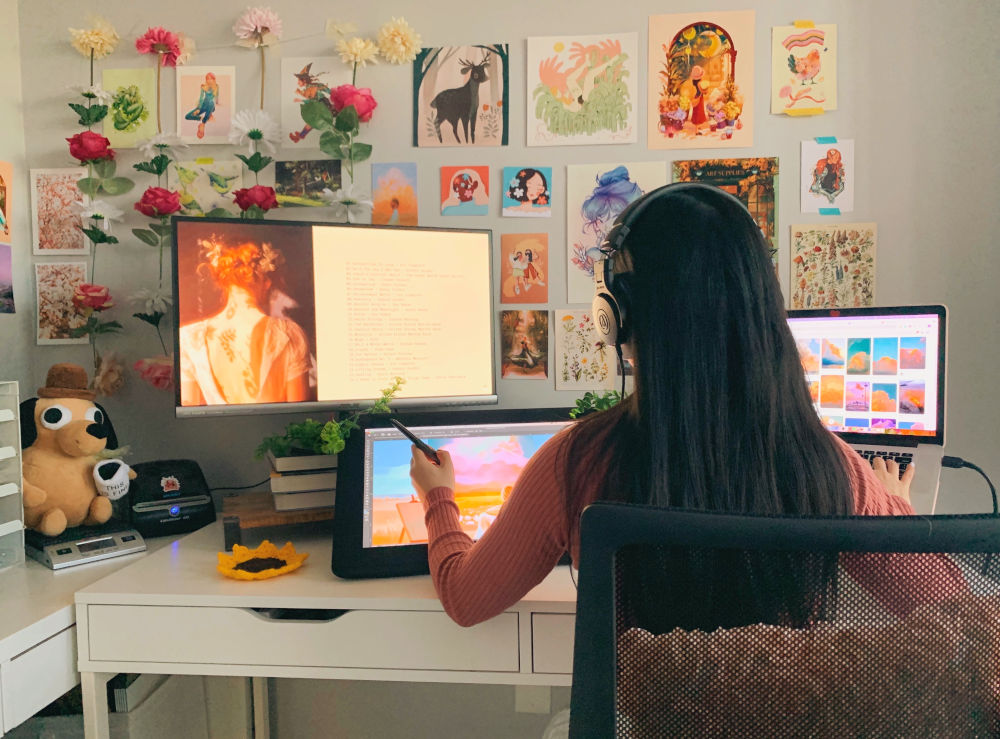 How's life for an artist in Canada? I imagine the country's nature gives you plenty of references for the winter landscapes you like painting.
Since I live in the Greater Toronto Area, we don't really get to experience the winter wonderland scene. Instead, we get wet ice which means slushy roads, haha! It's not the prettiest place, which is most likely why I try to paint winter in a more serene way.
We have plenty of hiking trails nearby, so I go on hikes with my partner during summer and fall. We try our best to discover new hiking trails and set out early in the morning so we can catch the sun.
I get super excited to gather references for lighting, observe the different colours of the leaves, and learn more about the local plant life.
I would really love to explore the rest of Canada one day. I want to see the west coast for the mountains and the east coast for the coastal vistas and beaches.
Your art reminds me of European fairy tales and legends, and I'm always impressed by your ability to bring colours and charm similar to Disney's in your scenes. Where do you usually go when you're searching for inspiration? Please tell us about the artists or writers who influence your work.
Thank you so much; I really appreciate it! This may sound cliche, but I use Pinterest to find inspiration and gather new ideas.
I often go there to look at different art and try to discover new things that might spark my interest. Sometimes, I find myself looking at product design, packaging, and graphic design as it helps me find interesting colour palettes. I also look at different architectural designs and nature. I try to save as many pins as possible for future reference.
I also have another Instagram account where I follow a lot of photographers and different creators. I get much of my inspiration from nature and travel photography.
I think it's important to constantly look outside your field for ideas; you'll never know what will inspire you!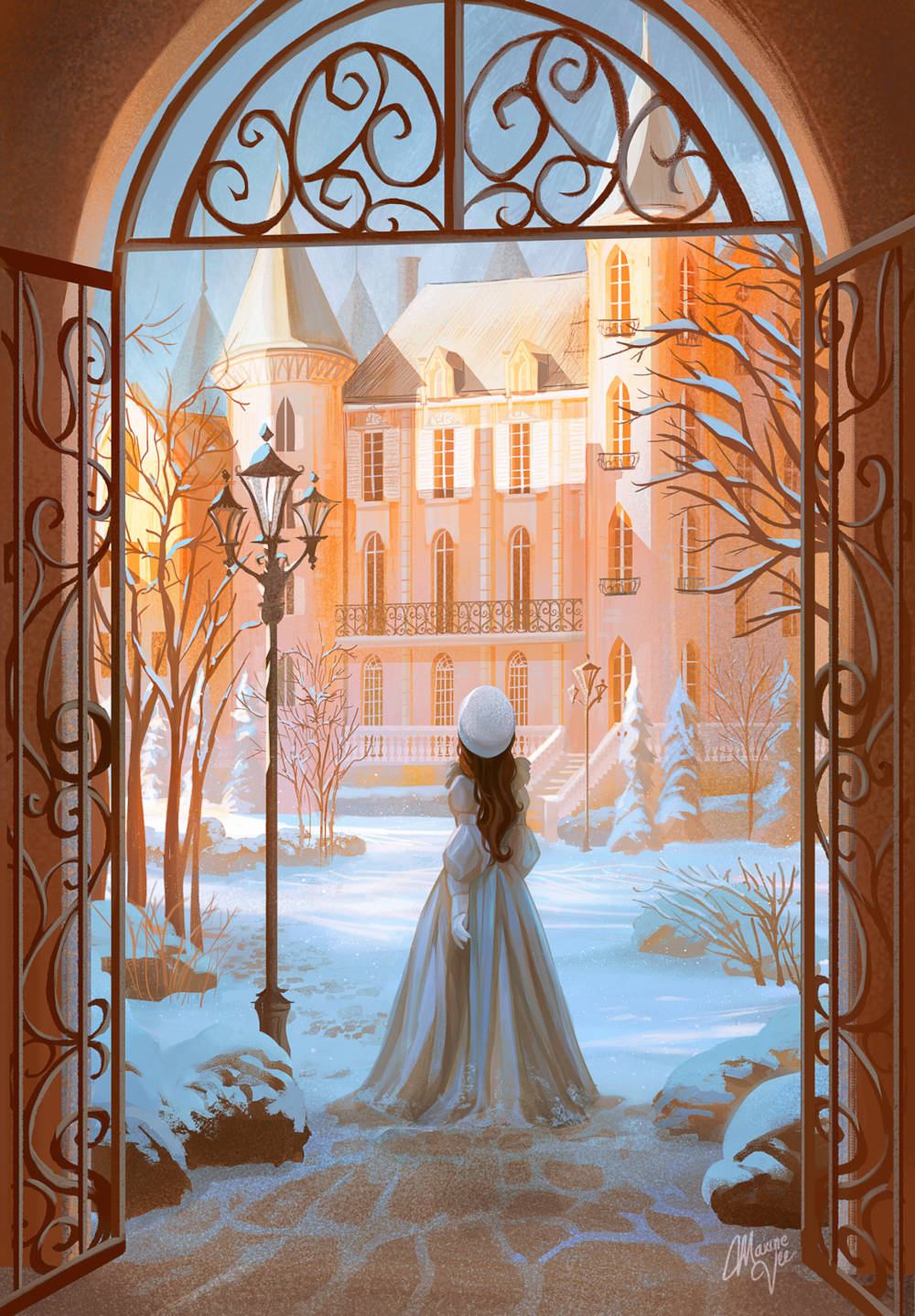 It's difficult to list all the artists who influence my work because there are way too many! I always find new ones and admire how they visually tackle different subjects. However, here are some great artists whom I adore deeply. Please check them out if you haven't already:
Annette Marnat: Her works are timeless and full of life. I admire how she pushes simplicity in her shapes and textures in the most elegant way. I look to her work a lot when working with shape language.
Sibylline Meynet: I'm a big fan of her work! I recently got a hold of her art book, and I devoured every page. Her colour palettes and gouache painting process are mesmerizing. I get so excited whenever I see her stuff!
Amei Zhao: I love her use of colour, concepts, and the serene quality of her work. Her works take me to a different world, and I would love to achieve her level of storytelling.
Caspar David Friedrich: I've always enjoyed Romanticism, so he's always been a constant inspiration to my work. I especially love his use of compositions such as the Rückenfigur (a figure seen from behind) and the depiction of light.
Loish: She's been an inspiration from the start. Her work is incredibly impressive, and I love how she paints complex subjects using minimal brushstrokes.
I'd love to learn a thing or two about your process! Do you think you could walk us through some of your go-to techniques?
One of the key elements crucial to my process is gathering references. I like to create a board of all the materials that will be relevant to my painting.
Let's say I'm starting a piece with a castle. I will look for pictures of castles, but I will also look for gates, window designs, pillars, etc. That way, I'm relying not only on one image to tell a story, but I can instead borrow elements I like from each and apply them to my painting.
When I'm using Procreate, I use the app called VizRef to curate all the references images on one board. I highly recommend this tool!
One of my other go-to techniques is to take advantage of the curves and selective colour tool. I love to play around with these adjustment layers to create a harmonious colour palette. I usually use this tool early in my painting process. That way, I can experiment with different palettes to help set the mood of my painting.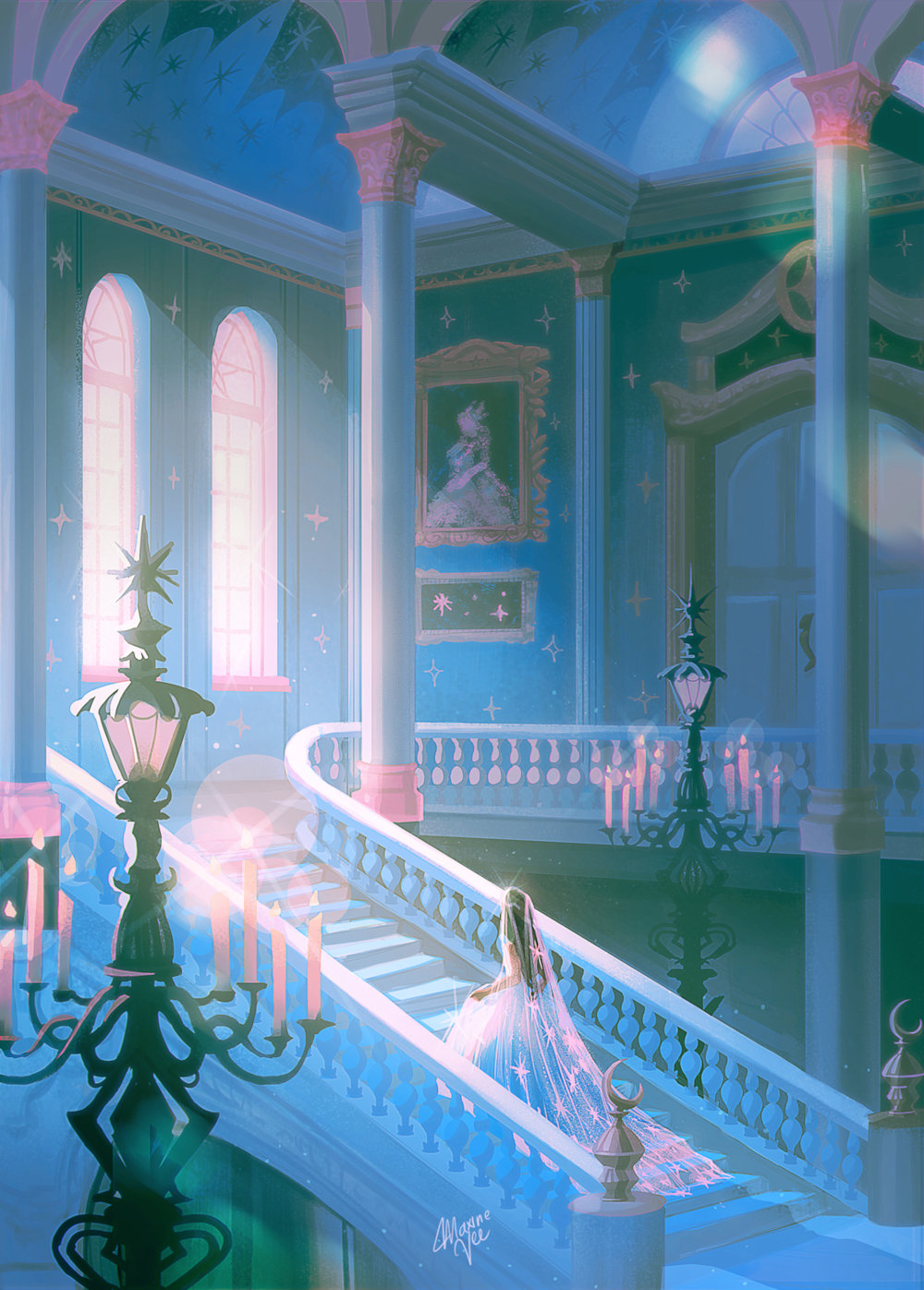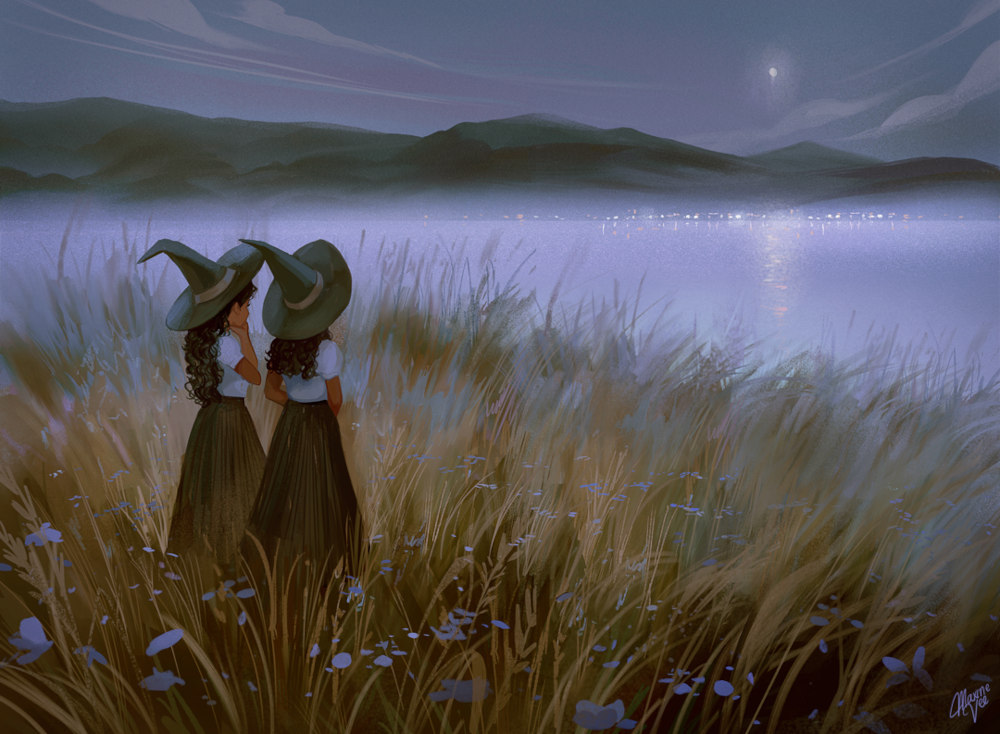 What are some of your favourite films or series with the same kind of peaceful quiet as your art? I'm really just looking to help people discover some new titles, so feel free to go all out with the recommendations!
Amelie: I love this film so much! The whimsical story, the cinematography, and not to mention the beautiful soundtrack all draw me to the film. Everything about it is like taking a bite of a delicious chunky chocolate chip cookie.
Big Fish: I really like the fantastical elements and cinematography of this movie. The daffodil and popcorn scene are some of the most beautiful shots I've ever seen! It just makes me smile every time I think about it.
Pride and Prejudice (2005): Huge fan of this. Every shot from the movie looks like a classical painting!
Kiki's Delivery Service: This is such a comfort movie for me. I always refer to the beautiful backgrounds when I want to create magical sceneries.
Many artists try to grow their fanbase using social media, but it doesn't always work as quickly or as well as we might imagine. What's the big secret? How can an aspiring illustrator successfully build a community around their work?
Building a community around your work is a long process. When you're starting out, it's very important to determine your values and ask yourself why you're joining social media. Do you want to use it to simply share your work as an artist? Do you want social media to drive people to your shop? Will you use it as a portfolio?
Having these core values will shape what you'll share with your audience. Remember, because this is a long process, it's completely okay to change your goals and values along the way.
When I started social media, I wanted to use it to share my work and track my progress, so I would post sketches, explore new subjects, and try out different things.
Eventually, I saw other artists using social media to showcase their work and get paid gigs, sell prints, and make a living as an artist. As soon as I found out about this, I immediately knew this was what I wanted, so I followed many accounts and artists I admired that made this possible.
One of the key things I noticed all these artists shared was consistency. Finding your own artistic voice cannot be forced, so exploring is the only way to find out what that really is.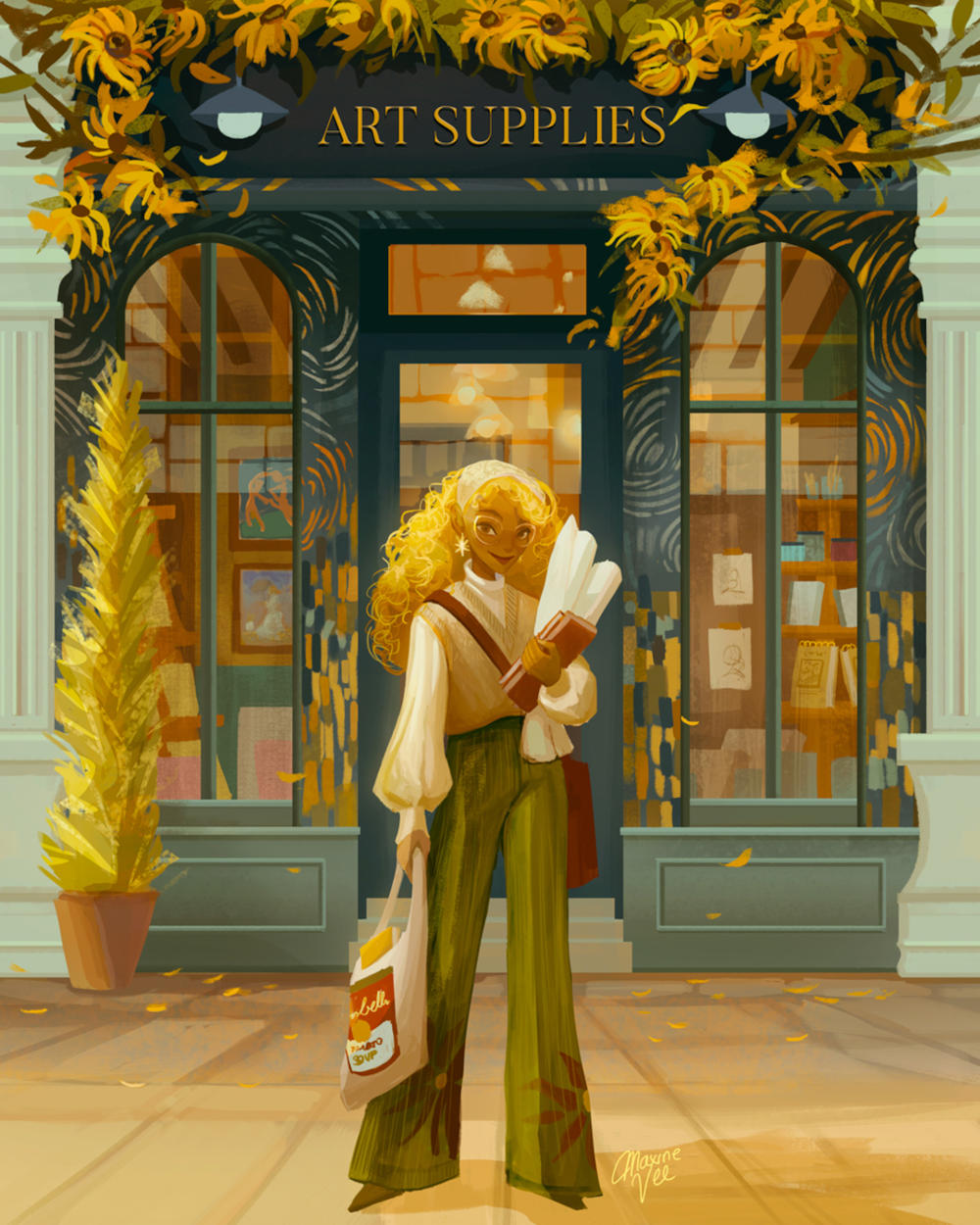 At that time, I decided to focus on improving my skills and explored different subjects to find out what I wanted to paint. I took various classes, watched and studied how other artists paint, tried different mediums, and took on new techniques. There was a lot of trial and error involved, but eventually, I found specific subjects and certain painting methods that felt natural.
Eventually, I made pieces I was very happy with and took social media more seriously by creating a schedule and only showing work that aligned with my art, values, and "brand."
I know many artists shy away from the last word, but if you want your work to be taken seriously, you will need to be very picky about what you show and be consistent about it.
I want to point out that all of this didn't happen overnight. You must learn and embrace the process every step of the way as much as your results.
You've also got a great online store up and running! Do you have any tips that could help others navigate the business side of art? How long did it take to properly establish, and what steps did you have to make?
When I first started selling my prints, I used print-on-demand sites like Society6. It was the most convenient for me since I wanted to test the waters and see what's it like to sell my art. Eventually, when I started to build more body of work, I moved to Etsy and started to sell a handful of prints. This was a good learning experience since Etsy is easier to navigate than running your own store right from the get-go.
You won't have to worry too much about e-commerce tools by starting with Etsy. It's also free to use compared to sites like Shopify (although the caveat is that there are transaction fees.)
When I got the hang of how things worked for my shop, I eventually took the leap and moved to Shopify.
Running a business is a continuous learning experience. Even though I have some experience with it, I'm constantly looking for ways to run it efficiently and change things that don't work anymore.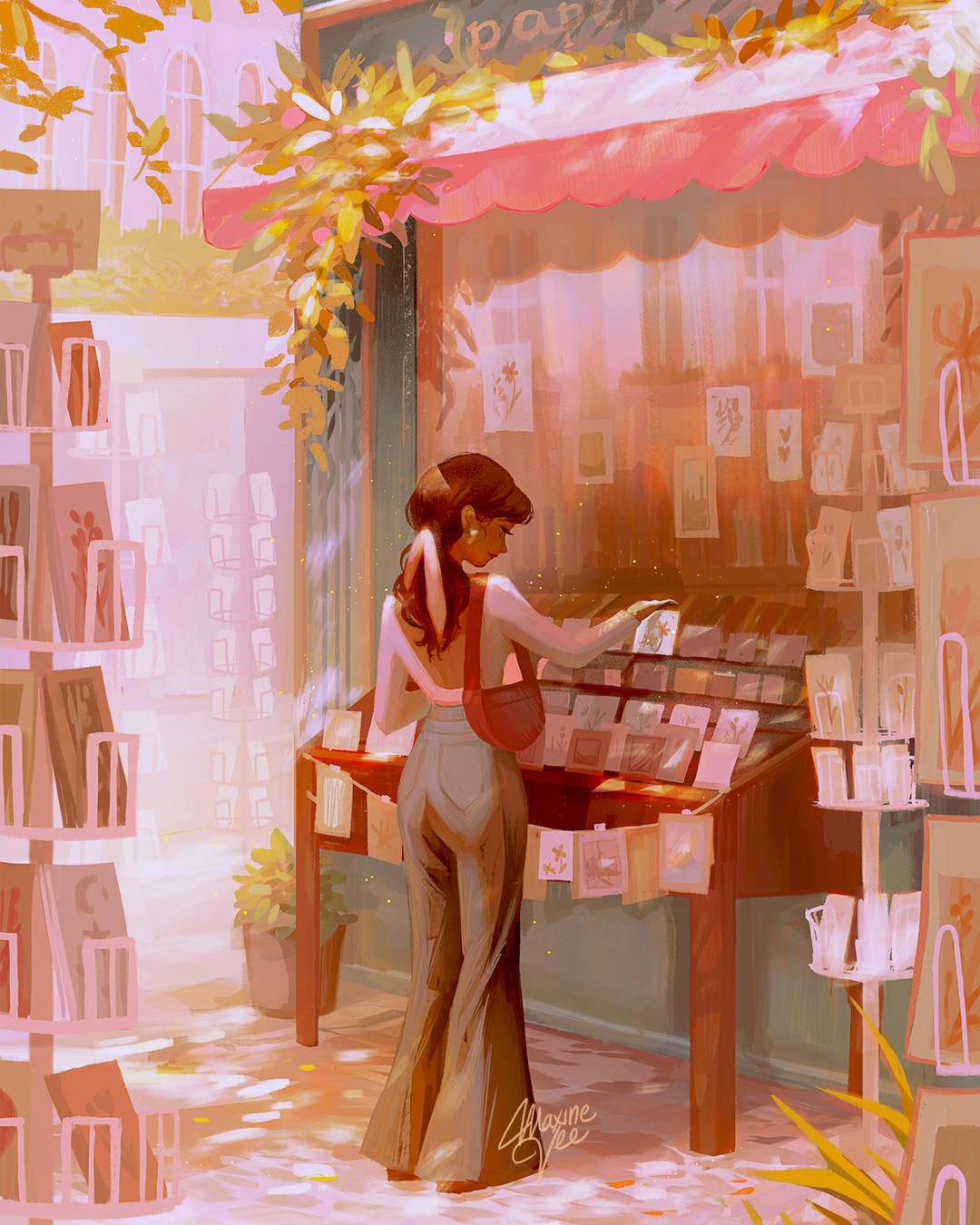 I watched a lot of YouTube videos on how different artists pack their orders, watched how they set up their sites, learnt how to ship orders, and did as much research as I could.
However, I do want to point out that sometimes you might run into a suggestion that works perfectly well for that business, but you might find it unsuitable for you. That's why you need to be proactive and check as many resources as possible. You don't even have to stick to reading and watching tips catered to people running an art shop. You can also learn a thing or two from other small businesses and see how they run their shop.
Digital media and social networks changed art forever, but with all of the technological developments we've been promised, I think it might be at a crossroads again. Where do you see art a decade from now?
I believe social networks will still be relevant a decade from now. I think we're going to see a shift in how we share our work with the community, especially with the growing popularity of TikTok and bite-sized videos in general.
Seeing all this makes me a little nostalgic for the DeviantArt days, but I'm also very excited to see how artists will find creative ways to share their work.
Personally, I would love to see more shared art studios/workspaces that can be accessible to anyone. I think this would help many aspiring artists have the freedom to try out different mediums without having to invest a lot of money in the materials.
I would also love to see more collaborations with different artists and creators. I absolutely love what TeamLab has done with their installation, where visitors could immerse themselves in a sea of dancing colourful lights.
It would be fantastic to see collaborative work between installation art and digital art and create an immersive and interactive experience!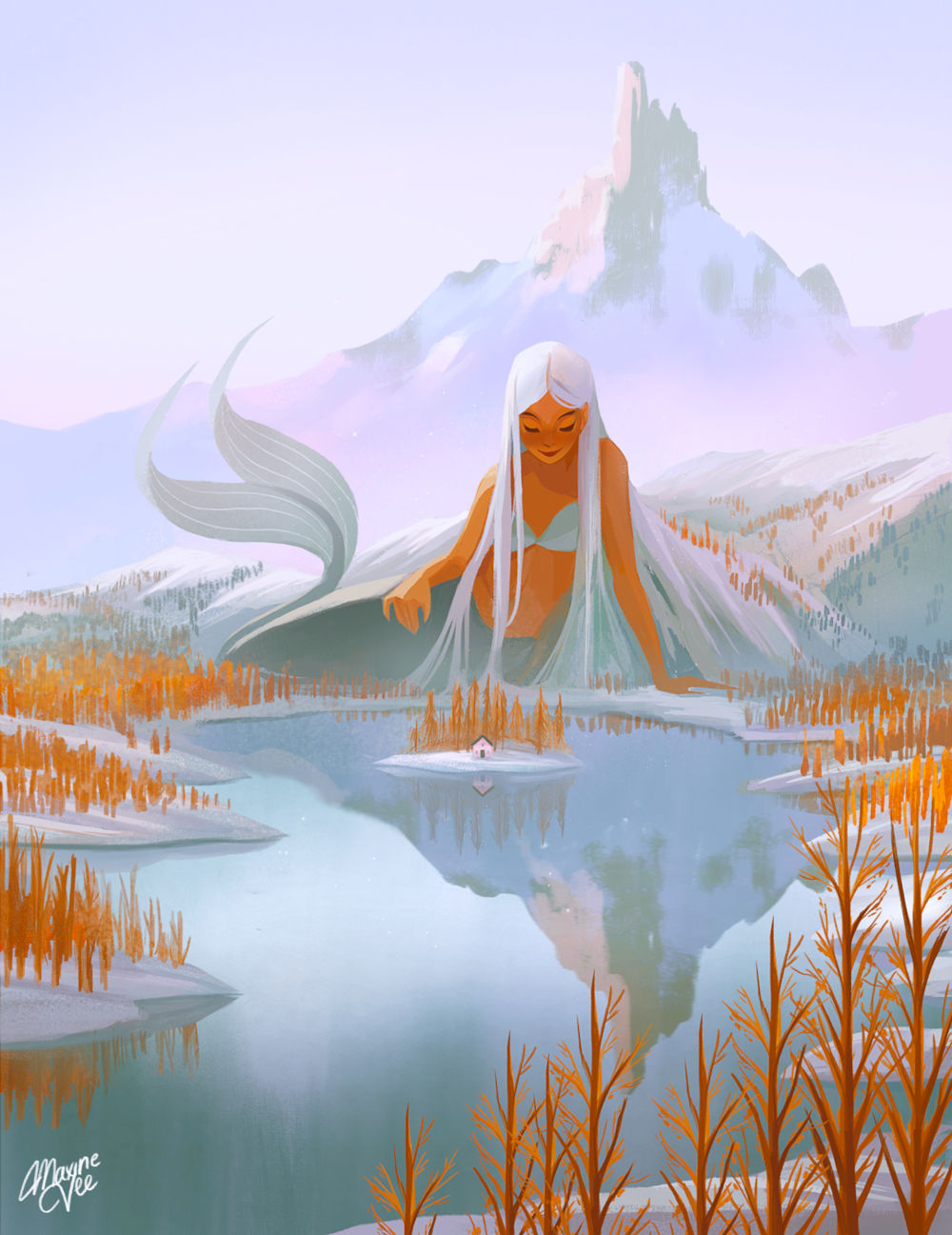 What's next for Maxine Vee?
It's been less than a year since I fulfilled my goal to become a self-employed artist, so I want to take the time to just focus on producing more art exploring new environments, storytelling, and characters.
As for my art business, I want to open my shop more often this year and produce more merch! Much of my art doesn't translate to apparel or sticker designs, so I want to create more versatile work that can be transferred to different mediums.
I also want to spend more time making sketches and studies. It's very important to continue learning and growing as an artist. Doing quick sketches is a nice outlet for me to let my mind wander and develop fun and interesting concepts without feeling the need to produce a finished piece.
Soon, I really want to create an art book! I've always dreamed of seeing my art in bookstores, so this would be an absolute dream come true for me.
---
If you enjoy Maxine's work, consider visiting her website or following her on Twitter .